SECURE NETWORK ACCESS
George WilkesMarch 8, 2022
WEBINAR: How to Unleash and Secure the Cloud with Zero Trust Security
Zero Trust security helps organizations modernize their cyber defenses and empower security teams with greater control over who can access which resources at any given time. But how does Zero Trust security protect cloud environments?
Whether organizations are increasing cloud adoption or looking to prevent cyberthreats like ransomware, Zero Trust security is growing as a top vehicle to enable those initiatives while limiting risk.
John Grady, senior analyst of global analyst firm ESG and Colby Dyess, director, product management and our Appgate Zero Trust expert, brought their perspectives to this SC Media webcast on how Zero Trust principles apply to modern architectures in the cloud and deliver secure access. Watch the replay below to learn:
How Zero Trust adoption drives increased user satisfaction and productivity, improves efficiency for security operations center (SOC) teams and reduces security costs
How cloud integrations add to increasing IT complexities that organizations are dealing with and how Zero Trust can apply to applications on-premises and in the cloud
How automated tools and application programming interfaces (APIs) that operate within a Zero Trust architecture can be helpful to the DevOps side and the security side, which often don't communicate well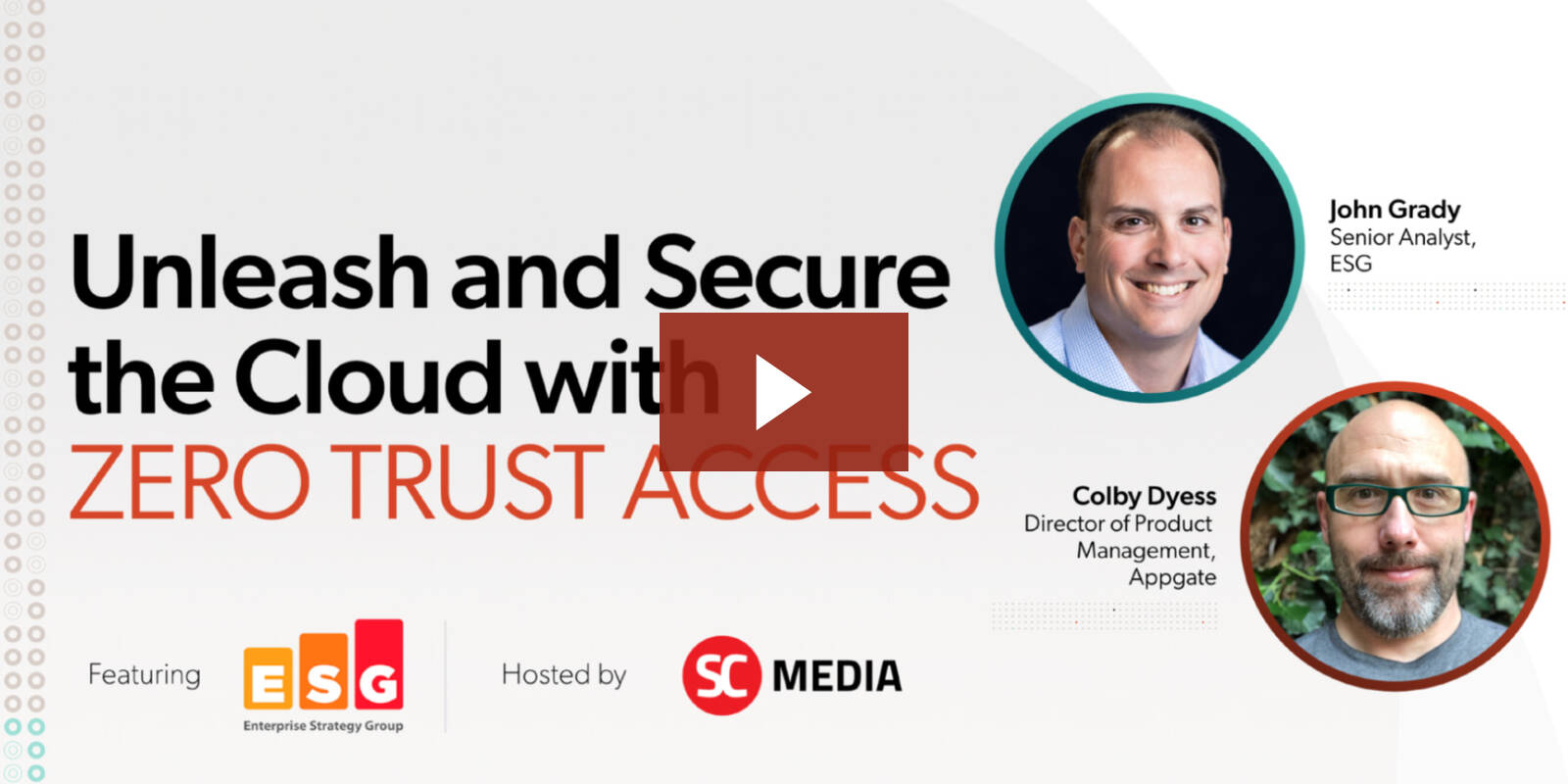 Key Takeaways
Time to dive beneath the buzzwords and better understand the Zero Trust security options available to organizations adopting cloud architectures. Here are some interesting insights from the webcast:
Nearly everyone is using the cloud. Zero Trust can secure it. As discussed in the webcast, according to ESG research, 94% of respondents said they are moderate or extensive users of public clouds and 82% are using two or more public cloud Infrastructure as a Service (IaaS) providers. Many of these organizations have resources on-premises as well, and a Zero Trust architecture can be applied to complex IT environments. No need to have different security tools for the cloud versus on-premises data centers and a patchwork of solutions that may not work together. Zero Trust security covers it all.
Business priorities drive different requirements for tools supporting Zero Trust. There is no magic switch that organizations can flip to apply Zero Trust to all their users, assets and workloads, but there are many reasons to start adopting and expanding. As reported in the webcast, this drives a variety of requirements in tools supporting Zero Trust. ESG has found that 31% of organizations require consistent coverage across their hybrid cloud environments, 29% prioritize risk assessment capabilities, and 25% said automation or integration with analytics, identity providers and endpoint agents.
Zero Trust security tools don't have to be cumbersome to DevOps. With a Zero Trust Network Access (ZTNA) solution, there aren't additional hoops for developers to jump through. They can seamlessly access their resources every time, regardless of their location. In some cases, automation can be triggered by tickets that produce policy assignments, so the right access is given to the right team automatically.
Visit our Zero Trust for cloud resources page to learn more. Or sign up for our weekly Wednesday democast to see the power of Appgate SDP, an industry-leading Zero Trust access solution, in action.